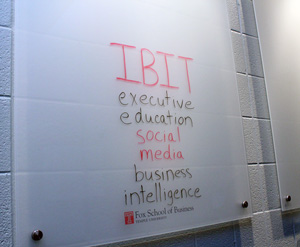 IBIT Professional Certificate programs focus on solving business problems and provide individuals and sponsoring organizations with the specific skills needed to create tangible business value and opportunity.
The programs are offered in small highly interactive modules limited to 25 participants. Each participant receives a certificate of completion. Current programs available on-campus or off-site include:
Applying Data Analytics to Unlock Business Potential
This workshop will prepare you to leverage organizational data, transforming it into actionable knowledge that facilitates better business decisions and exposes new opportunities. This workshop teaches students to learn the principles of data strategy, including best practices for acquiring, assessing, and analyzing data to solve business problems such as associations in customer data, affinity analysis, market basket analysis, and segmentation.
Social Media Strategy
Learn a structured approach for social media strategy that can generate business value. The approach links organizational strategy to business value goals by applying a mix of specific tactics such as: listen and brand, mine and decide, converse and share, and co-create and innovate. Discover common success factors and avoid pitfalls of internal and external implementations of social media. Learn how to promote, monitor, and manage an online identity. Topics include the functional role of social media, defining business value, key objectives, and metrics, selecting tools, fostering community and engagement, risks, and best practices.
IT Value (AKA 'MBA for techies')
Appropriate for information technology professionals. Learn the business including accounting, business model, marketing, sales, and supply chain.
Business is Design
To succeed in today's economy, business professionals must have the tools to understand the present and to design the future. But perpetual innovation requires new organizational forms, different logic and collaborative settings. It demands shifts in culture and attitudes.
In a two-day seminar format, participants will use design methods and attitudes as a lens to address these challenges. Opportunities no longer exist in products alone but in the experiences they create. Through immersive exercises and robust discussion, learn key differences between product- and experience-oriented logic, as well as strategies to mobilize existing resources for the shift.
This program is offered in collaboration with the Center for Design+Innovation.
Protect Information Assets
Protect Information Assets is a minimum three day workshop which starts with the ISACA Risk IT framework and applies System Administration, Networking, and Security Institute (SANS) material as well as specific case studies and hands one exercises. The material is only appropriate for IT personnel.
Understanding an Organization's Risk
Data Classification: Process and Models
Risk Evaluation
Creating a Security Aware Organization
Managing IT Security Risk
Physical and Environmental Security
Business Continuity and Disaster Recovery Planning
Network Security
Identity Management and Access Control
Application Development Security
Cryptography, Public Key Encryption and Digital Signatures
Security Threats and Mitigations
Secure digital infrastructure
Secure Digital Infrastructure is a three day hands on workshop that goes into the technical challenges and solutions for infrastructure security. The material is only appropriate for technically knowledgeable IT personnel. It can cover:
Data Protection, Encryption & Decryption, Public and Private Key, Digital Certificates
Information protection including Digital Hash, Steganography, Distributed Security, and Countermeasures
Network Security including OSI model, TCP/IP model, Client and Server Architectures, Point-2-Point, End-2-End
Operating System Security including Computing Platforms, Virus, Trojan horse, Keyloggers
Web and Database Security including Cookies, Java Script, Web services, Cross site Script
Transport Layer Security including IPv4 vs. IPv6, UDP/TCP, Firewall
Network Address Layer Security including VPN, IPv4 vs. IPv6, NAT
Link/MAC Layer Security including Multi-access protocol, Ethernet Hub, Bridges, Switches, Routers, ARP
Physical Layer Security including Wireless Security, 802.11, 802.15.4, Bluetooth, RFID, Cellar Network
Parallel computing, Virtualization and Cloud Computing
Regulatory Aspects of Information Security including ISO 17799, CFAA, CSA, HIPAA
On-site facilities
On-site programs are at Alter Hall, Fox School of Business, on the main campus of Temple University in Philadelphia. The IBIT Professional Certificate program is offered in a new high-tech flexible meeting space that features multi-user wireless projectors, innovative lighting, glass white boards and movable seating and furniture.
The program fee covers tuition, case materials, and meals. IBIT members receive complimentary seats and discounted fees. Discounts are also available for Temple alumni and recent alums of the Fox MIS department.
More Information
Contact Laurel Miller at ibit@temple.edu.