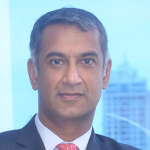 Jazz Tobaccowalla is the Vice President and Chief Information Officer of Regeneron where he is responsible for the creation and execution of the vision to make IT a core enabler for the business. He has been tasked with reevaluating the organization model and laying out the direction to keep up with the significant growth of the company.
He previously served as Managing Director for Pfizer India a publically listed division of Pfizer Inc. where he was responsible for the company's activities in India and surrounding markets including the P&L.
In prior roles he has held responsibilities for the Commercial IT organization at Pfizer including the Digital Engagement and Mobile Solutions Team, a key area of innovation and investment. At Wyeth he was Vice President R&D Business Systems & Strategy holding responsibility for developing the strategy to meet the goals of Wyeth's global R&D productivity models, as well as its plans for regulatory filings and approvals. In addition, Jazz led the International Information Services and Global Systems organization at Wyeth, where he directed the information technology program for Wyeth affiliates in Europe, Mid-East and Africa, Asia-Pacific, Latin America, Canada.
Jazz holds a Masters in Business Administration from the Stern School of Business, New York University and a Bachelor of Science degree from Ramapo College, New Jersey. Jazz was born in Mumbai, India and moved to the U.S. for his undergraduate studies.