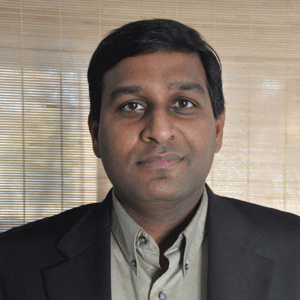 Abstract:
The objective is to discuss Alexion's approach for identifying and implementing the foundational data platform for all reporting and analytical use cases at Alexion.  Alexion had several challenges with data, analytics and reporting where information was not consistent, lacked common language, had too many silos and required too much manual intervention making it very difficult to get value from data assets. We decided to create foundational data platform that includes Hadoop based data lake, security layer that partitions sensitive data, data catalog that helps reuse of data assets, a data warehouse and a reporting layer. We are prioritizing investments based on value across organization to start implementation with Commercial organization but then quickly rolling out this capability across manufacturing/supply chain, compliance and R&D organization.
Biography:
Venk is a Sr. Director, Enterprise applications and Architecture at Alexion Pharmaceuticals, a global bio-pharmaceutical company focused on developing and delivering life-transforming therapies for patients with devastating and rare disorders.
Venk's strategic role is that he is responsible for implementing an IT development factory for Enterprise Applications and building an Enterprise Architecture function.
The first role is to create an IT Development Factory to support the enterprise applications and capabilities of Alexion. Examples of these capabilities include CRM (Veeva, Salesforce.com), Data platforms/ BI/ Analytics COE (Reltio MDM, SAP BW, HANA etc), Middleware (MuleSoft), R&D applications such as Laboratory Information Management Systems, Digital/ Mobile apps COE, Content Management Systems (e.g. Documentum, Veeva Vault) and other regulated systems. The IT Development Factory will be a highly skilled organization that is comprised of both Alexion employees as well as a partner network to deliver enterprise industrial-class systems.
The second role is to build and leverage an Enterprise Architecture capability. The EA function will be instrumental in linking the business mission, strategy, and processes at Alexion to its IT strategy, and document this using multiple architectural models or views ensuring current and future needs of Alexion are met in an efficient, sustainable, agile, and adaptable manner. The primary role of the Enterprise Architecture function will be to ensure that the respective business, application, data and technology perspectives are in line with the organization's technology and governance strategies, policies and standards. Enterprise Architecture function will be leading the identification and analysis of enterprise business drivers to derive enterprise business, information, technical and solution architecture requirements; analyzing industry, technology and market trends to determine their potential impacts on the enterprise.
Venk  has 17 years of proven track record leading business transformation, IT architecture and delivery resulting in a continuous increase in scope and responsibility. Venk comes from Pitney Bowes Inc. where he most recently served as Sr. Director, Sales, Marketing and CRM applications managing demand, strategy, governance, architecture and delivery of all commercial applications. Prior to joining Pitney Bowes, Venk held positions at Merck-Medco and BroadVision Inc. performing both strategic and delivery consulting roles for over 25 Fortune 500 companies in diverse industry segments.
Venk has a MBA in Finance & Leadership at NYU's Stern School of Business and MS in Computer Science from University of Illinois along with Strategic Leadership executive certification from University of Virginia – Darden Business School.