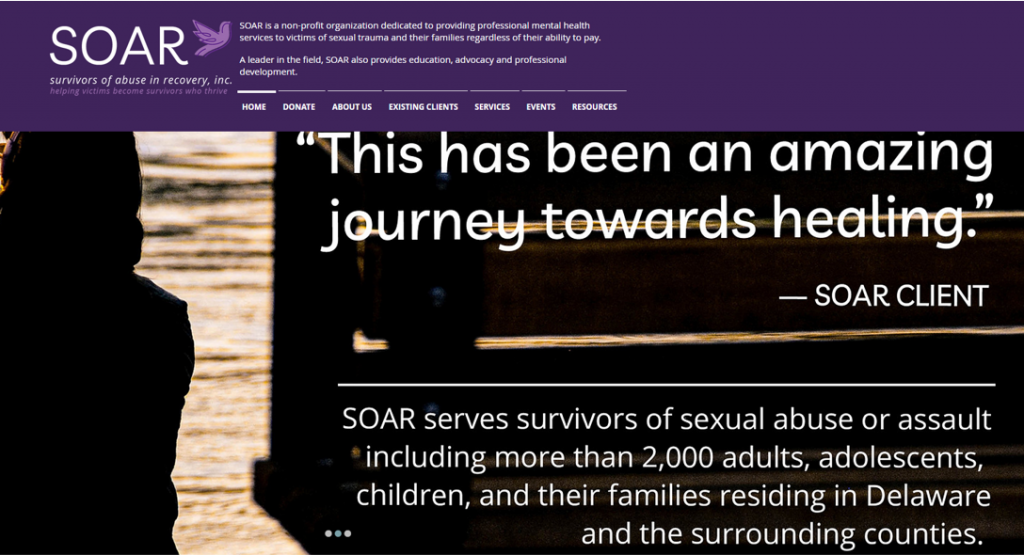 The Institute for Business and Information Technology (IBIT) at Temple University has been offering no cost digital transformation services to small businesses and non-profits since the start of the pandemic. In this post, we focus on the nonprofits.
Survivors of Abuse in Recovery Inc.
Survivors of Abuse in Recovery Inc. (S.O.A.R.) is a Delaware-based nonprofit that provides aid to victims of sexual trauma and their families. It started as small therapy program in Wilmington, but in 25 years it has grown into a statewide program helping children, teens, and adults. Oviya Soundararajan and Maura O'Malley worked rapidly to make changes to SOAR's branding, social media, and website.
According to Jenna Laczkowski, SOAR's director of development: our logo and website were outdated. The organization has been around more than 25 years and it desperately needed a reboot. Oviya & Maura were able to get our website done and our rebrand campaign completed.
Dream Academy Foundation
Dream Academy Foundation is a nonprofit that helps and empowers youth in the areas of science, technology, arts, and more. Founder Dominique Bryant realized that her foundation needed a better website and social media to improve its digital presence. In only a few weeks, Taylor Trench and Julia Petiteau made significant improvements to the nonprofit's website and social media, sign up forms, and e-commerce.
We have been able to now capture more volunteers and Dreamers (Youth) to be a part of our programs and streamline our processes. I am also confident that more sponsors would be willing to donate or partner with us. Since launching the website individuals have stayed on our website longer based on our analytics! says Bryant.
Jazz Bridge
Jazz Bridge is a nonprofit that provides support to jazz and blues musicians in crisis, and it also provides paying gigs to performers through neighborhood concerts. At the beginning of the pandemic, Joseph Lewis realized that his nonprofit needed an upgraded website to reach people. Kyra Lloyd and Ashley Mohan worked quickly to make improvements to the organization's website, including a new design.
I thought the Temple team did everything well. From offering design and layout solutions, to enhancing our copy, the team was spot on, says Lewis.
Sauers Cares
Sauers Cares Foundation was founded right before the COVID-19 pandemic hit the United States in 2020. According to executive director Stephanie Sauers-Boyd, the nonprofit needed help improving its website after nine months of operation. David Shin and Julia Petiteau worked quickly with Sauers-Boyd to make changes to the website that would help the foundation.
My favorite adjustment to the website is definitely the Hope Partners page. It's a very clean page and I'm excited to fill it up with linkable pages to share more with our visitors about what we have accomplished with our partners, says Sauers-Boyd.