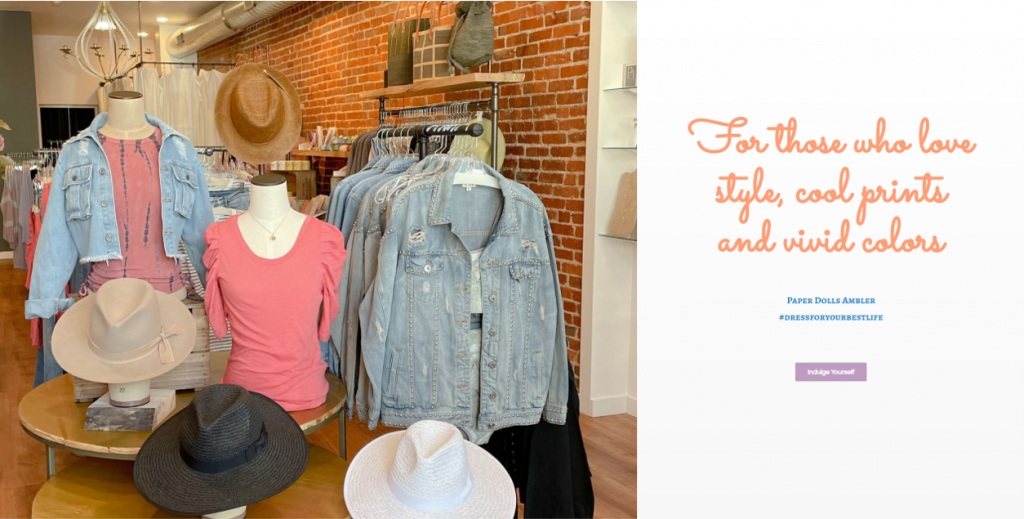 The Institute for Business and Information Technology (IBIT) at Temple University has been offering no cost digital transformation services to small businesses and non-profits since the start of the pandemic. In this post, we focus on the experience of transforming small retail businesses.
Paper Dolls Ambler
After working many years in retail, Missy McMonagle opened her boutique, Paper Dolls Ambler. However, the COVID-19 pandemic made her realize that her business needed to move to an e-commerce website platform to appeal to new customers. Students Catherine Rheault and Rishi Duggal were able to transform McMonagle's boutique website and overall online presence. The students worked with McMonagle for a few weeks to transition her website to an entirely new platform.
We successfully transitioned our client to the new platform Wix and changed her POS to Square. Learning about the two systems was great, and now I have more knowledge on both having been used to WordPress, says Rheault.  This project was definitely a good learning experience, says Duggal. I believe that we have given our client the tools to better grow her brand and understand her new E-commerce and POS.
Urban Princess Boutique
Cynthia Ray came to IBIT in need of significant updates to her website for her business, Urban Princess Boutique. "Due to the COVID-19 crisis and subsequent quarantine, our small brick and mortar boutique was forced to shut down for almost three months," she says. "So, we had an immediate need for a more functional website to help move our business online to keep up with the "new normal" and no funds to dedicate to this."
Enter students Julia Petiteau, Connor McShane, and student supervisor Kunal Duggal who worked together to address the boutique's needs in only a few weeks. "They needed help redesigning parts of their website to allow online sales to happen," Petiteau says. "This project was a lot of fun. I didn't have much experience with Squarespace when I started, but I learned a ton about the platform and what makes a website good."
McShane picked up new skills through the project with the boutique, too. "I learned a lot about working with a small team, website enhancement, time management, Squarespace, and their POS system, Square," he says. After the project finished, Ray complimented the work and professionalism of the three students:
The team was excellent at listening to our issues and helping us prioritize our needs. We had a lot of thoughts and ideas that we threw at them and they were instrumental in helping us focus, she says. They also gave us a good training session at the end of the project and written training materials for us to refer back to going forward.
Elle's Closet LLC 
LaRussia Royster came to IBIT during the early months of the COVID-19 pandemic seeking help for her boutique, Elle's Closet. The women and minority-owned business offers women's clothing in a wide array of sizes and designs, but Royster needed help gaining sales from the boutique's Facebook and Instagram accounts. "The problem I was experiencing with my business was I wasn't receiving consistent online sales," she says.
Student Kelsey Gallagher and advisor Alison Ebbecke were able to address all of Royster's problems. They set up the boutique's Facebook Shop page and Instagram Shopping, and they updated the content of the website while increasing SEO. Additionally, the pair met with Royster many times to give her tutorials on how to continue updating the boutique website and social media shops. Royster was very impressed with Gallagher and Ebbecke:
During the two weeks that I've worked with Alison and Kelsey I saw an improvement. They made me feel very comfortable in the questions I asked. I appreciate their professionalism and patience, she says. Now my followers can shop from both social media platforms.
Queenie's Pets 
Adina Silberstein founded Queenie's Pets in 2006, and the business has been providing pets and pet owners with a variety of helpful services like professional dog walking, pet sitting, and a large retail selection of pet products. When the pandemic hit in the early months of 2020, Silberstein realized her business needed to get an online store on its website. "[There] was a sudden need to have an online store in order to remain viable post-COVID," she says.
Students Jason Mays and Nick Gentile worked with their advisor, Taha Havakhor to implement e-commerce on her website. Not only was the project helpful for the small business, but the students were able to learn how to work with the e-commerce platform, Shopify.
Mays remarked on how the project was a good learning experience. "This project gave me the opportunity to learn Shopify and allowed me to sharpen my web design skills. I also learned how to easily setup a fully functional online store through Shopify," he says. At the conclusion of the project, Silberstein applauded the students for their attention to detail and communication saying that they went above and beyond.