The Institute for Business and Information Technology (IBIT) at the Fox School of Business, Temple University is proud to partner with the Association for Information Systems to produce the first ever nationwide Information Systems (IS) Job Index. The report is intended for high school counselors, prospective and current students, IS academics, HR professionals, hiring managers, and legislators.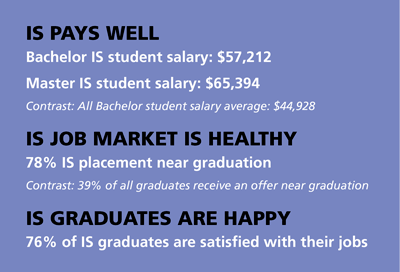 The AIS – Temple Fox School Job Index is a joint five year project to produce reliable national level data on placement, type of jobs, satisfaction, and on related factors such as career services, knowledge level, preparedness, and search strategies. The project will produce an annual IS job index report and is intended to become the first systematic assessment of the IS job market.
2013 IS Job Index
The top 10 observations from the 2013 AIS – Temple Fox School IS Job Index report which represents 48 universities and more than 1200 students in the United States are:
The IS job market is healthy with high placement levels of 74% overall and 78% upon graduation.
Bachelor IS students average salary is $57,212 while Master IS students average salary is $65,394.
76% of IS graduates are satisfied with their jobs, and 76% are confident they will perform well in those jobs. 73% found jobs related to their chosen degree.
Information Technology, Financial Services, and Business Services / Consulting are the top industries for IS jobs.
The most common job classification is Systems Analyst at 35% for Bachelor students and 28% for Master students.
IS students are industrious and use multiple techniques and sources to find jobs.
IS students are moderately confident and moderately positive about the job search process.
Access to Career Services centers is the most important for getting a job. IS students value faculty support more than central University support.
IS students rate themselves knowledgeable about their profession.
IS students are 68% male, 55% white, and 28% Asian.
Project timeline
Spring 2012
Identify foundational theories and job categories and metrics in the literature
Create a plan for implementation
Prepared initial draft survey in late spring
Review of draft survey by employers, HR experts, recently graduated students, and by AIS personnel
Produce online survey and obtain IRB approval
Summer 2012
Sent out survey for additional review to stakeholders
Implemented additional revisions in Summer 2012
Started first small pilot
Fall 2012
Completed first small pilot and made revisions and started second larger pilot
Completed second pilot and made revisions and ready for roll-out in December 2012
Spring 2013
Roll-out to AIS student chapter members
Form advisory board
Departmental roll-out
Identify top 50 programs nationally
Each program will receive a customized confidential report in exchange for participation
Students from those programs will receive compensation and prizes for participation
Fall 2013
Data analysis and cleaning complete
Final report is produced.