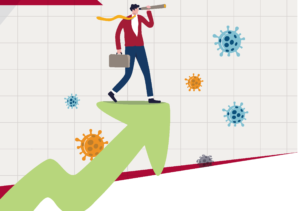 Business and industry as we once knew it has changed. What was their "normal" is likely not coming back either.
As we move past the COVID-19 pandemic, it's imperative that the many affected industries find a way to move forward too. But how do they do that?
That's the question explored in "An industry perspective on major post-pandemic issues," a new article that was recently published in MIS Quarterly Executive. The piece outlines seven practical recommendations for industry to consider in the wake of the pandemic.
The co-authors include Dinesh Desai, executive chairman and founder of Emtec, Inc., an IT consultancy firm; Linda Descano, executive vice president at Red Havas; Larry Dignan, editor in chief of ZDNet and editorial director of ZDNet's sister site TechRepublic; Chris Kearns, senior vice president in Operations and Technology at NBCUniversal; Raghu Sankaran, chief information officer (CIO) and chief information security officer (CISO) at Scholastic, and IBIT executive director and Fox School Professor, Munir Mandviwalla.
The recommendations include:
Digital transformation must remain a priority
Business valuation of IT must shift assumptions
Data is now even more central to business models
Business continuity and operations planning require a fresh approach
Remote work is a reality but management and tech need improvement
Workforce recruitment and development face new challenges and requirements
IT must play a central role in enabling societal and local responsibilities
The recommendations made in the article are far reaching. For instance, the co-authors argue that remote work should now be used as a recruiting tool and note that this could be especially impactful when it comes to acquiring and retaining IT talent. They also suggest that productivity and innovation could be increased by sharing critical performance data regularly with all employees.
"A lot of these topics came from our Digital Fireside Chats, which IBIT has been hosting since the pandemic started, Mandviwalla says.
"There are several things that make this article unique," Mandviwalla says. "First, the recommendations reflect the experience and expertise of my co-authors. Typically, industry avoids getting involved in academic knowledge creation, yet this group was willing to take the leap. Second, the speed at which this article was completed and published was just not normal. Typically, these types of things take multiple years, but we all worked on it rapidly including the editor-in-chief and reviewers. The article was fast tracked for publication, going from conception to publication in less than 3 months. Lightning had to strike multiple times for this to work, and it did."
Since its launch in March 2021, the article is one of the most-downloaded at MIS Quarterly Executive.