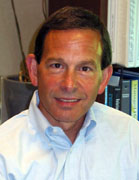 Chair, IBIT Advisory Board
Retired VP and CIO, Wyeth
Mr. Fadem retired as CIO for Wyeth in November 2005. As CIO he was responsible for providing information technology strategic direction to the corporation and managing the corporation's IT business application solution and shared services operations units. Mr. Fadem joined Wyeth in September 1995 as head of information technology for the pharmaceutical domestic commercial operating division. In June 1997, his responsibilities were expanded to include international information technology, and in November 1997 he was promoted to corporate CIO.
Prior to joining Wyeth, Mr. Fadem spent twelve years with BankAmerica Corporation in a variety of information technology positions including: head of worldwide application development, head of worldwide technology development & deployment, and Retail Bank CIO. From 1971 to 1983 Mr. Fadem was employed by First Pennsylvania Bank N.A. where he served as Chief Information Officer from 1978 to 1983.
Mr. Fadem received a B.S. degree in Industrial Engineering from Rutgers University, and an MBA from Fairleigh Dickinson University. He is a recipient of several awards and recognitions including: the Society for Information Management (SIM) 1991 Partners in Leadership Award for the implementation of the first microcomputer-based bank branch automation system; the Temple University Fox Business School 2002 IT Leader of the Year; the Project Management Institute 2004 Earl E. Feight Award for Project Management Excellence; and was selected as one of the ComputerWorld 2003 Premier 100 IT Leaders. Under his leadership, Wyeth Information Services was recognized by InformationWeek magazine as one of the Top 100 IT Innovators and was ranked number one in the biotechnology & pharmaceuticals sector from 2003 to 2005.