BIG DATA Conference
BIG DATA Conference
BIG DATA Conference
BIG DATA Conference
BIG DATA Conference
BIG DATA Conference
BIG DATA Conference
BIG DATA Conference
BIG DATA Conference
BIG DATA Conference
BIG DATA Conference
BIG DATA Conference
BIG DATA Conference
BIG DATA Conference
BIG DATA Conference
BIG DATA Conference
BIG DATA Conference
BIG DATA Conference
BIG DATA Conference
BIG DATA Conference
On Sept. 27, 2012, the Big Data Conference was organized by Temple's Institute for Business and Information Technology (IBIT), based at the Fox School, and connected practitioners from agencies and firms ranging from NASA and Lockheed Martin to Walmart and Campbell's Soup Co. to discuss "The Business Value of Big Data: Potential, Reality, and Success Stories."
During the course of the day, more than 100 attendees and nearly 20 speakers and panelists explored topics ranging from predications of global climate change, to data-driven marketing strategies, to the role of social media in politics. There was tremendous interest in the program, and the conference sold out weeks in advance.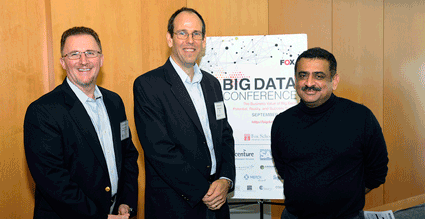 Conference sponsors included well-known big data practitioners such as Accenture, SAP and GreenPlum, as well as local startups such as ColdLight and Global IDs. IBIT members Lockheed Martin, Campbell's, Merck, LiquidHub, Sabre Systems and Transaction Network Services also sponsored the conference. The proceeds from the sponsorships and registration funded a new $50,000 Big Data research fund.
Keynote speaker Adrian Gardner, director of information technology and communications directorate and CIO of NASA Goddard Space Center, discussed the many ways in which NASA is using big data to benefit citizens, businesses and government agencies. He cited examples including the use of satellites, which have been aggregating millions of data points since 1978, to pinpoint ideal windmill locations for private energy companies, share predictions about hurricanes with the National Weather Service and monitor the impacts of global climate change.
"Organizations who wish to truly leverage big data must be agile enough to change and grow," Gardner said. "Today is an opportunity to think about how big data can help your sector."
During a morning session titled "Redefining Healthcare," Independence Blue Cross Director of Informatics Ravi Chawla discussed improving marketing campaigns using data-driven insights. With the help of a SAS data tool he called "one of the Cadillacs of data mining," Chawla helped whittle 200 data variables down to several key variables that drive customer attrition. The resulting predictions proved more powerful than those of previous models.
"It's not enough to have just good data or a lot of data," Chawla said. "Being able to analyze and make sense of the data is critical in making better business decisions."
The conference was organized in partnership with the senior executives of the Fox IT Advisory Board, corporate members of IBIT and the Department of Management Information Systems (MIS). MIS faculty also presented or chaired conference sessions, including department Chair Munir Mandviwalla, Professor Paul A. Pavlou and Associate Professor David Schuff.
The conference committee, which included executives from Merck, Pfizer, Accenture, LiquidHub and Transaction Network Services, as well as Fox School faculty and staff, collaboratively planned all aspects of the event, including its theme, speakers, sponsors, format and implementation.