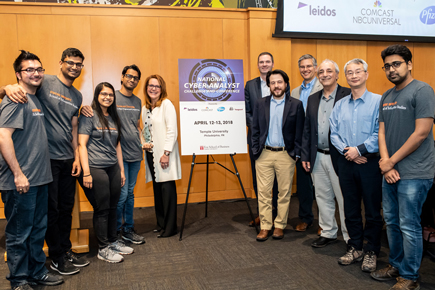 A cyber competition administered by Temple University's Institute for Business and Information Technology (IBIT) to fill the ever-growing need for cyber analysts has a winner. A team from Syracuse University earned a $20,000 prize as the winner of the third annual National Cyber Analyst Challenge and Conference.
Created to enhance the skills of the future workforce and inspire students to pursue careers in cyber security, the National Cyber Analyst Challenge and Conference focuses on developing strategic skills involving analysis and threat identification. Partnerships with NBCUniversal, Vanguard, Leidos, and Pfizer powered this year's competition.
A panel of industry experts scored the team from Syracuse University highest in technical proficiency and communication. The multi-phased competition started with each team analyzing a cyber case. In the second phase, the teams received training from industry experts. The competition culminated in a real-time practical challenge held April 12-13 at Temple University in Philadelphia.
"Cyber is driving the next big shift in the evolution of IT," said Michael Bradshaw, Executive Vice President and Chief Information Officer of NBCUniversal, who was one of the keynote speakers. "Much as client-server and use of the Internet and web applications shaped the landscape, securing the IT environments for our companies and ourselves personally will drive changes we're only just starting to understand."
"This competition draws students from across the country, serving as a tremendous pipeline of emerging talent in an increasingly important technical field," said Chris Kearns, competition co-founder and Head of Hosting Services at Vanguard. "The finalists showcased conceptual thinking, analytics, deep technical skills, and inspiring teamwork, as they tackled real-life scenarios."
A team from Pennsylvania State University finished runner-up to Syracuse, receiving a $5,000 prize. The National Cyber Analyst Challenge's other finalists (in alphabetical order) were: Brigham Young University, Carnegie Mellon University, Howard University, Iowa State University, University of Alabama at Huntsville, University of Maryland University College, University of New Haven, and Villanova University.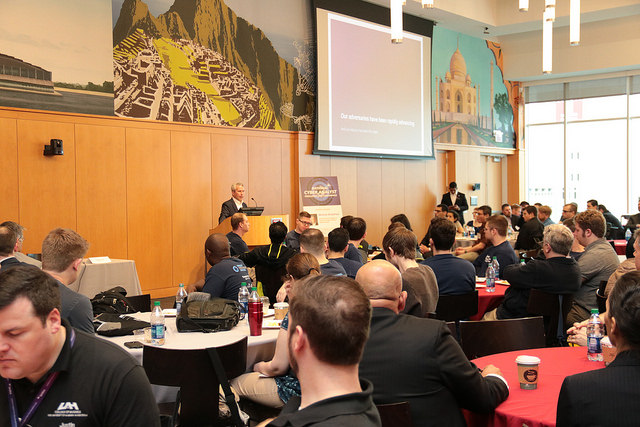 The associated conference engaged faculty and industry experts from Pfizer, NBCUniversal, Vanguard, Amazon, University of Delaware, University of Alabama, Carnegie Mellon, Temple University and others. Presenters discussed cyber research and curriculum challenges and opportunities.
Kim Basile, Senior Vice President and Chief Information Security Officer at Leidos, who was also a keynote speaker, believes the National Cyber Analyst Challenge and Conference has "zeroed in on one of the most important challenges in cybersecurity—analyzing the oceans of data we create each day to identify threats and find better approaches to security."
"The competition provides companies like Leidos the opportunity to meet students from across the country," she added, "and hopefully strengthen the workforce of the future as this competition grows and teams challenge each other, compete, and win."
The participants agree: 96% found the competition valuable, while 90% found that the conference provided valuable insights and knowledge.
"The National Cyber Analyst Challenge and Conference is one of a kind," said Dr. Munir Mandviwalla, Executive Director of Temple's IBIT, who worked with Laurel Miller, Director, to organize the event. "No other competition is bridging industry experts and academics from management information systems, computer science, and engineering to address the cyber needs of the nation."
Contact:
Christopher A. Vito
Temple University
215-204-4115, cvito@temple.edu