More than 100 executives – representing industries including healthcare, software, retail, consulting, manufacturing, financial services, media, education, and travel – gathered recently for the Digital Business Innovation conference to explore the convergence of media, analytics, and corporate identity.
The full-day event, held March 27, featured 16 speakers from firms including NBCUniversal, Wyndham Worldwide, Citigroup, SEI, EMC, HCL Technologies, Electronic Ink, Beyond.com, Booz Allen Hamilton, Lockheed Martin, Merck, Warby Parker, Yards Brewing Company, LiquidHub, NYSE and AIG.
The conference kicked off with welcoming remarks from the Institute for Business and Information Technology (IBIT) Executive Director Munir Mandviwalla and Fox School of Business Dean M. Moshe Porat, who announced a new Master of Science in Digital Innovation in Marketing.
The first keynote speaker, Alyson R. Johnson, Senior Vice President, Marketing and Corporate Communications, for Wyndham Worldwide, spoke about the blurred lines between marketing and digital communication.
Johnson shared how Wyndham Worldwide has strengthened its global brand with the creation of the Wyndham Championship in partnership with the Professional Golf Association of America.
Vice President of Information Technology for Merck, George Llado, introduced speakers from AIG, Warby Parker and EMC for a panel about changing the customer experience with media analytics.
Mary Kotch, CTO for AIG IT Americas and CIO for Latin America, shared her experiences with rebranding AIG three separate times and adapting new technologies to cultural expectations and trends to better serve customers.
Tim Riley, Director of Online Experience for Warby Parker, led attendees through the story of Warby Parker's development, from starting as web based, to using bicycles and buses to sell its eyewear, to opening its flagship store in New York City. Riley also explained the importance of transparency and constantly being innovative to meet the demands of customers and to keep them engaged, particularly on digital and social channels.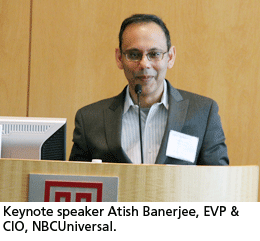 The second keynote speaker, Atish Banerjea, Executive Vice President and CIO for NBCUniversal, discussed the new era of media, analytics and technology.
Banerjea shared the ways in which NBC is constantly finding ways to become more innovative as technology progresses, through new concepts such as TV Everywhere and Lo-Q: a 'lower the queue' product for the parks business. Banerjea emphasized the need to deeply understand consumers so as to provide the exact content and experience they want while also using that knowledge to inform the decisions of advertising partners and to maximize business opportunities.
Other presentations focused on how media, analytics and identity are changing competition; new ways of thinking and new toolkits to do so; and new partnerships and relationships.
To see more pictures, click here.
Photo
Photo
Photo
Photo
Photo
Photo
Photo
Photo
Photo
Photo
Photo
Photo
Photo
Photo
Photo
Photo
Photo
Photo
Photo
Photo