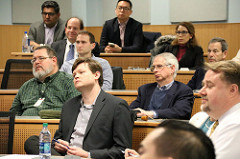 Last month, Fox School's Institute for Business and Information Technology (IBIT) welcomed some of the world's foremost cyber-security experts for an engaging panel on cyber-security's role in policies and happenings in the country and the world.
IBIT, which is known for integrating cutting-edge industry perspectives with academic research, brought in renowned international attorney Sean Kanuck, along with the Director of Microsoft's Government Security Policy and Strategy Team, Angela McKay, and Temple Law's Associate Dean of Academic Affairs and James E. Beasley Professor of Law, Duncan B. Hollis. The trio of panelists touched on everything from managing federal and state cyber regulations to information-sharing to the newly expanded role of IT in protecting vital infrastructures.
Overall, Hollis says, the event was designed to offer insights as to how ongoing political and legal processes in the international arena will affect cyber-security professionals in their work — "whether it's Microsoft's push for a new cyber-security treaty, or efforts at the United Nations to identify a set of norms for responsible nation-state behavior in cyberspace."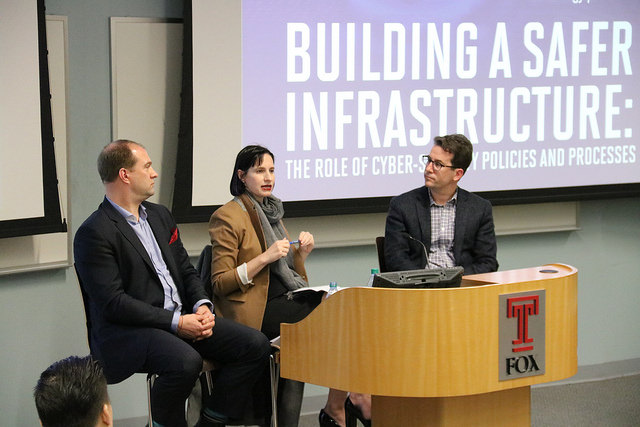 Kanuck served as the first National Intelligence Officer for cyber issues from 2011 to 2016, and currently advises governments, businesses and entrepreneurs on the future of information technology. McKay, meanwhile, focuses on driving strategic change both inside Microsoft and more globally to "advance trust in the computing ecosystem." (She also serves on the Security Telecommunications Advisory Committee, which advises the President of the United States). Hollis specializes in issues of authority in international and foreign law, and has researched international law's role in regulating cyber threats. He is currently part of an inter-disciplinary team headed by MIT research scientists to study norms and governance in cyberspace.
"It was a privilege for IBIT to host such a distinguished panel of speakers," says Munir Mandviwalla, IBIT's Executive Director. "Their 'from-the-field' insights will enhance the professional development of Fox School cyber-security students and faculty."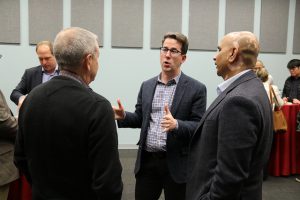 It's true, agrees Jason Lindsley, a student in the Fox School's IT Audit and Cyber-Security Specialized Masters Program. "I really enjoyed the discussion between the panelists and also speaking with them during the social period," he says. "The most interesting part of the panel to me was the discussion on the Geneva Convention and how it established humanitarian protections for civilians in a war zone. The panelists emphasized that cyber warfare makes it very difficult to enforce these protections because the Internet is completely open to everyone. I thought this was fascinating, and it really emphasized the need for more current international policy."