Since Isaac Asimov created the three laws of robotics in 1942, artificial intelligence has been a distant unattainable vision for business. On November 15, Temple University's Institute for Business and Information Technology (IBIT)  gathered academic and industry leaders to create a pragmatic path for generating value from Artificial Intelligence (AI) and related technologies such as machine learning.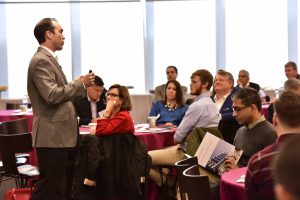 The IBIT symposium on "The Practical Path Forward: Cognitive Computing, Artificial Intelligence, and Analytics" organized in cooperation with Emtec Inc., an advisory firm, attracted about 100 local and national experts.
Keynote speaker Jeff Hamilton, Senior Vice President, Pfizer, demonstrated how AI is in action today at Pfizer and other firms in improving healthcare such as physician interaction, patient adherence, and access. Jeff Szuba, Vice President of Analytics at NBCU and voted by attendees as one of the symposium's highest-rated speakers, showed how analytics is driving consumer engagement using scalable data foundations in the media industry.
Another highly rated speaker, Ron Kim, a private equity expert at TPG Global, and former CIO of Exelon, showed how to separate hype from practical reality. David Schuff, Professor and Chair of MIS at Temple University presented research directions relating to the role of unsupervised algorithms in shaping business. Sunil Misra, President, Emtec, presented a well-received use case on robotic process automation (RPA).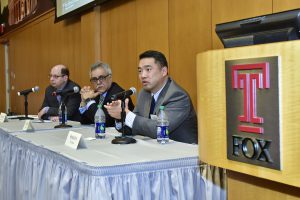 Speakers from DARPA, Alexion, QVC, LiquidHub, AmerisourceBergen, Comcast, Aetna and MuHu covered topics such as cognitive networking, infrastructure, consumer personalization and real time insights, and AI self-service platforms.
"The speakers provided tangible, practical, and measurable examples of the role of AI," said Dr. Munir Mandviwalla, IBIT executive director, "It was an excellent day of knowledge sharing, which is — after all — the essence of a university."

Contact:
Christopher A. Vito
Associate Director of Communications
cvito@temple.edu, 215-204-4115
View more information about the symposium here. 
View photos from the event here.