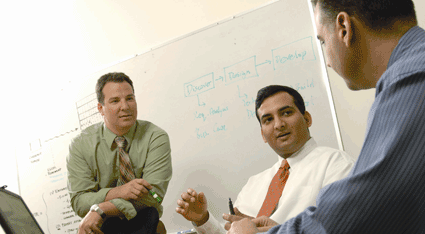 Jonathan Brassington has a resume that would make any aspiring IT professional swoon, yet over the phone his demeanor is disarmingly humble. "I never attribute anything to myself," he said, when asked what he considered the primary impetus to the success of his tech consulting firm, LiquidHub. "I'm the steward of culture as the CEO, but the entire organization has innovation in their DNA."
So, too, does Brassington, who was the recipient of the Fox IT Innovator Award in 2009. He earned his dual BS in Computer Science and Mathematics from College Misericordia before pursuing a cross-disciplinary Masters Degree in Telecommunications and Operations Strategy from the University of Pennsylvania. Currently, he serves on the Fox IT advisory board and mentors the program's graduate students. As LiquidHub's fearless leader, he manages the company's Consulting Operations, Finance, and Personal Development.
Jonathan took a few moments from his busy schedule to reflect on his career, LiquidHub, and his role as mentor at Temple.
Temple University: Thanks for taking the time to speak with us, Jonathan!
Jonathan Brassington: It's my pleasure.
TU: Let's dive right in. As founding partner, you helped build LiquidHub from the ground up. Did you always know you wanted to be an entrepreneur?
JB: My story and how I entered into entrepreneurship was somewhat opportunistic, if you will. I came to [Philadelphia] to get my Masters. At that time, the internet explosion or "boom" was accelerating. So, upon graduating I had to make a decision between working for a larger firm or working for an entrepreneurial firm. And I chose the latter.
TU: What was your first job, post-graduate school?
JB: My first real job was for an early-stage company, and I went there and started a business unit. I never looked back.
TU: Not even for a second?
JB: [laughs] I never wanted to be in a big corporate environment. I felt an affinity to building things—to building businesses. To looking at how technology can be transformative and drive business innovation. [pauses] I wouldn't say I knew as an undergraduate that I wanted to be an entrepreneur, but when the opportunities presented themselves, I self-selected.
TU: How would you describe LiquidHub to someone who's just hearing about it for the first time?
JB: LiquidHub is a digital technology advisory and integration firm. We focus primarily on the financial services and health care industries. We look at how digital and disruptive technologies are transforming the way our clients are interacting with their customers. We help them conceptualize or ideate, build the technology, and in some cases we manage it. Systems integrations is a $950 billion dollar industry, and our specialization is in digital technologies—global, web, and social. That's the positioning of the firm.
TU: A global company, that operates from Philadelphia?
JB: Founded here in Philly, offices in Pennsylvania, New York, Boston, San Francisco, Wilmington, and Amsterdam. And we have a development center in India.
TU: So you do a lot of a traveling.
JB: Yes, I do.
TU: Sounds cool.
JB: [laughs] Sometimes.
TU: So what inspired the name "LiquidHub"?
JB: When we started the firm we didn't want a technology consulting "inc" name or something similarly mundane. We wanted a name that stood out. Then we thought, what would represent "fluidity" and "agility"? So the word "liquid" came to us—because technology is always changing and morphing, and businesses need to adapt to how they use technology.
TU: After operating for thirteen years and experiencing exponential growth, what aspects of LiquidHub are you most proud of?
JB: For us, it's really about our culture, which revolves around innovation. There's an entrepreneurial spirit that's embedded in the company. We help our clients—who tend to be very large established firms (Fortune 500s and global organizations)—and we work with them to drive technology innovation that provides breakthroughs and powerful change. It's not about a single person, it's about all the people, and their leadership. Most of the people within the company have been founders and CEOs of other companies. There's a high level of leadership that trickles into the culture.
TU: Do you do anything "official" to implement and reinforce the spirit of innovation?
JB: We hold a lot of contests internally, where we reward entrepreneurship. We recognize people who step out beyond their day to day job. It's embedded into the culture of the company.
TU: Fox is fortunate to have you serve on our IT advisory board, and you've also been engaged as a mentor to students in the Management of Information Systems program. What have you enjoyed most about your relationship with Temple, and what value does academic mentorship add to someone working in business?
JB: I learn tremendously from the interactions with the Temple students. For me, seeing young minds in terms of how they're thinking about the world today, how they think about business, how they think about the use of technology, is tremendous. The way the millennial generation intuitively uses technology and interacts is very important to me.
What I love about Temple is the way the school utilizes and creates interactive learning experiences for students. There's this blended context of how to apply academia to the business world, and I really get charged up by that.
As a mentor, I'm not only able to add value but to receive value from learning from the students. I learn something new from every interaction—what they think, what their expectations are. For a company that's always hiring, it's great to get an idea of what's important to this next generation.
The mindset is very different today. Technology is changing the environment and the manner of work. More and more, people are coming out of school, and are open to being consultants, or independent thinkers, or independent contractors—which is very different from when I graduated, where you sought a job and wanted it to be stable.
TU: Exciting stuff. For our final question—do you have any advice for current students or aspiring entrepreneurs hoping to apply IT creatively to business?
JB: It's important to be able to operate collaboratively on a team. Having that ability to work well in an increasingly collaborative environment is a big deal. One of the great things I've observed and really enjoyed about Temple is that it creates team experiences. Instead of [MIS] being about individual coursework, there's a team dynamic. In the work environment, that's critical. Temple has done a phenomenal job, and students should embrace this. The subtle skill of being aware of social dynamics as you work is extremely important when you go into the work environment—whether you become the CEO of your next company or you're a team leader, manager, or member.
— Felicia Roy