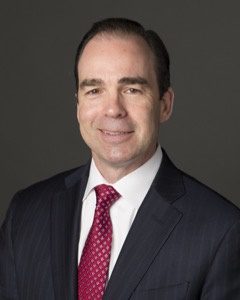 Temple University's Institute for Business and Information Technology (IBIT) has appointed Pfizer executive Jeff Hamilton as its newest Executive in Residence.
Pfizer's Senior Vice President of Business Technology, Hamilton visited Temple's Fox School of Business Wednesday, Dec. 6. He engaged with faculty and students on topics and projects of mutual interest, including the activities of IBIT, the Fox School, and its nationally ranked Management Information Systems (MIS) department.
Said Laurel Miller, Director of Temple IBIT: "Jeff is an excellent mentor who is committed to student development. He is always looking to engage with faculty on research, as well. In other words, he was a natural choice to serve as an Executive in Residence for IBIT."
The IBIT Executive in Residence program facilitates interaction between industry leaders and the faculty and students of Temple University's Fox School of Business.
Hamilton, in his role with Pfizer, leads business technology in the global innovative pharmaceutical business, including contributions in the achievement of its strategic priorities through the use of digital, data, and analytics capabilities. He also is responsible for directing Pfizer's global enterprise resource planning program, including the deployment of single-enterprise solution to integrate company's manufacturing, commercial, and finance operations.
Prior to joining Pfizer, Hamilton served as an associate partner with Andersen Consulting, where he led large operational transformation programs for pharmaceutical and other Fortune 500 companies.
Hamilton holds a Master of Business Administration degree in information systems from the University of Buffalo, where he also attained a Bachelor of Science degree in engineering.