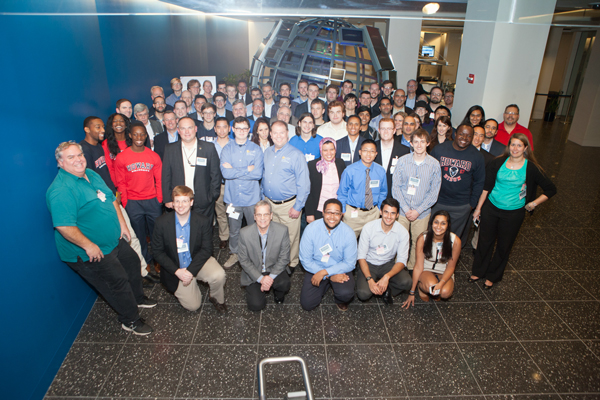 Lockheed Martin and Temple University's Institute for Business and Information Technology (IBIT) joined forces Nov. 5-6 in Washington D.C. to host the first annual National Cyber Analyst Challenge. The competition, which welcomed students from nine universities, including a team from the Fox School of Business, was designed to enhance students' skills in combatting cyber-attacks.
"Cyber security analysts represent a critical skill need for most organizations," said Chris Kearns, Lockheed Martin's Vice President of Enterprise IT Solutions. "These students showed great promise through their hands-on teamwork to solve real world challenges and progress through the competition."
The challenge, which aims to inspire today's technologically literate students to pursue careers in cyber security, was a three-month, multi-phase competition that presented each team with a cyber-security case to analyze. Temple's team included five students from the Fox School's Master of Science in IT Auditing and Cyber Security (ITACS) program: Jeta Gjana, Jose Gomez, Kerwing Hy, and Nick Nguyen, from ITACS' security track; and Ibtissam Bazzine, of ITACS' auditing track. The students received coaching from ITACS professors Ed Ferrara and Wade Mackey.
In the first phase of the competition, the students pored over 75 gigabytes of data to find the cause of the simulated hack. Then the teams submitted 10-slide summary reports to explain their respective solutions for preventing future cyber-attacks. In the second phase, in which only nine teams competed, the students received training from industry experts. The competition culminated in a real-time practical challenge held at Lockheed Martin's Global Vision Center in Crystal City, Va.
The winning team, from Iowa State University, was selected by a panel of industry experts and scored on technical proficiency, judgment, and communication. Iowa State's students received $25,000 in prize money. The runners-up, including Fox's team, received awards of $7,500-$15,000 to support student, faculty, and curriculum development.
"It was gratifying to work with Lockheed Martin to create such a student- and faculty-centric opportunity," said Dr. Munir Mandviwalla, IBIT's Executive Director and the Chair of Management Information Systems at the Fox School. "We hope to increase the national cyber talent pool across the nation's top programs in Management Information Systems, Computer Science, and Engineering."