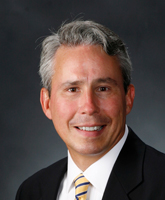 Temple University's Institute for Business and Information Technology (IBIT) has appointed Michael Bradshaw, NBCUniversal Executive Vice President and Chief Information Officer, as its newest Executive in Residence.
The IBIT Executive in Residence program facilitates interaction between industry leaders and the faculty and students of Temple University's Fox School of Business. In his role as IBIT Executive in Residence, Bradshaw will visit the Fox School Nov. 14, and engage with faculty and students on topics and projects of mutual interest, while also promoting the activities of IBIT, the Fox School's Management Information Systems department, and the Fox School of Business.
NBCUniversal is a member of IBIT, and Bradshaw is a member of the Fox IT Advisory Board.
"I'm honored to serve as an Executive in Residence at the Fox School," said Bradshaw. "The challenges we address today through technology represent a blend of business strategy, planning and communication. It's important to engage the next generation of students so they understand this complexity and recognize potential opportunities as they pursue technology careers."
Bradshaw, in his role as Executive Vice President and CIO of NBCUniversal, leads the information technology organization and oversees NBCUniversal's global IT operations, infrastructure, applications, and strategy.
Prior to joining NBCUniversal, Bradshaw served as Vice President and CIO for Lockheed Martin's mission systems and training business. He managed IT services that supported business programs and functions, and led the IT integration for major acquisition, resulting in a global business unit of more than 35,000 employees. He also has served as Vice President of Lockheed Martin's enterprise IT services, leading the team responsible for enterprise application and infrastructure services. Bradshaw previously held various leadership positions at IBM, where he led its global IT infrastructure transformation initiatives.
He holds a Master of Science degree in Computer Science from the University of North Carolina at Chapel Hill, where he also earned a Bachelor of Science degree in Business Administration and Operations Management.
Said Laurel Miller, Director of Temple IBIT: "Michael has successfully led major complex projects while managing and implementing dramatic changes in business models. He is the ideal role model for students."