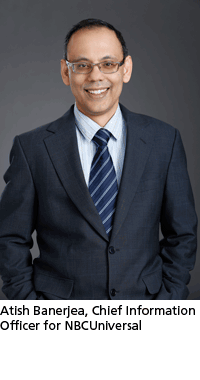 Atish Banerjea has just become the newest member of the Fox IT Advisory Board. As Chief Information Officer for NBCUniversal, Banerjea brings with him years of experience encompassing enterprise IT, technology development, global technology strategy, and more.
"Atish is a perfect fit," said Munir Mandviwalla, Executive Director of Fox's Institute for Business and Information Technology. "He embodies the next generation CIO that both leads digital innovation and manages a complex world class IT operation."
A recent recipient of the 2013 Fox IT Distinguished Alumni Award, Banerjea also served as keynote speaker at Fox's recent Digital Business Innovation Conference, where he addressed the world's ongoing "technical renaissance," which has drastically heightened the importance of technology in the business world.
"Businesses need guidance on how to leverage and capitalize on new technologies and innovations, which are moving at a faster pace than ever," said Banerjea. "Technology has moved from solely the backroom, enterprise-only IT functions to the front room, driving new business strategy and product."
Banerjea's "front room" experience and real-world savvy will prove crucial to the Advisory Board and Fox's ongoing development.  In his role at NBCUniversal, Banerjea leads the Information Technology organization, overseeing global technology applications, infrastructure and operations for the company's worldwide media portfolio.
As a board member, he joins 16 distinguished industry leaders with the collective goal of advising Temple in its pursuit of current, cutting edge education and research in the fields of integrative business and technology.
When asked what inspired him to join the Board, Banerjea said:
"Being a Temple alum, I am interested in contributing to the success of the Fox School of Business and the IT program…and playing an advisory role in curriculum development and research programs."