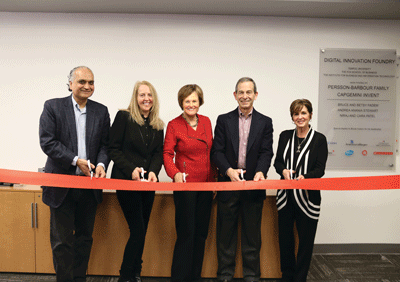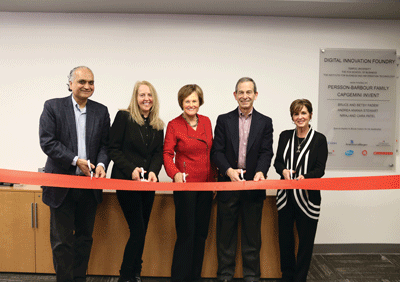 Temple University has a new way to engage students, faculty, and industry in generating digital innovation: the Digital Innovation Foundry (DIF). An Institute for Business and Information Technology project, DIF has launched with $1.27 million in funding thanks to generous corporate and individual donors.
Those collaborating through the Digital Innovation Foundry will assess, integrate, and prototype digital technologies. Industry can engage Temple students and faculty to address challenges they are facing with fresh thinking and a digital-first perspective. (For one project already underway, DIF is helping a company find ways to use software to motivate employees' professional development). Students will have the opportunity to work first-hand with businesses that are navigating digital transformation, and faculty can conduct design research in an environment that benefits students and industry.
When you work on a project at a company, you need to have all experience levels and different disciplines involved. Similarly, you can't have something like DIF without real collaboration. Students in all disciplines will benefit," said IT Advisory Board member Sondra Barbour, who endowed the Persson-Barbour scholarship.
Barbour is a Temple alumna and former Executive Vice President, Information Systems & Global Solutions at Lockheed Martin, and serves on the boards of 3M and Perspecta.
That is a real selling point for industry to work with DIF. You have, in essence, the entire breadth of the university to pull from. This is also a way to ensure we're sending our graduates out into the corporate world with an experience of collaborating across disciplines."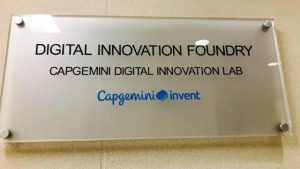 A March 18 ribbon-cutting for DIF's Capgemini Digital Innovation Lab officially opened a tech co-working space on campus. Students, faculty, and external partners can gather at the Lab to collaborate on projects, and assess demonstrations of new innovations.
The mission of the Foundry is closely aligned with Capgemini Invent's focus on digital innovation and transformation so we are pleased to invest in the new Capgemini Digital Innovation Lab at Temple University. We are confident that the Foundry will further generate digital innovation at Temple and in the region," said Jonathan Brassington, the head of Capgemini Invent, an IBIT Member.
Niraj Patel, an IT Advisory Board member and the donor behind DIF's Niraj and Cara Patel Endowed Scholarship Fund, appreciates DIF's alignment with current industry goals.
Technology will transform every industry. It is exciting to support an initiative that will engage all of Temple's disciplines to produce digital innovation," said Patel, who is Managing Director at DMI.
Over a year in the making, DIF offers a chance for industry professionals to step back from day-to-day business demands and envision future innovation. DIF intentionally differs from the business incubator model to allow teams of students, professors, and industry professionals to collaborate on long-term digital innovation projects that focus on the technology first — while still working with a blended mindset of academic research and creative thinking.
Having been on the corporate side for 30-plus years primarily as a Chief Information Officer, I'm well aware that the pressure to constantly make sure there's a return on investment is very large," said Bruce Fadem, IT Advisory Board Chair and sponsor of DIF's Bruce and Betsy Fadem Endowed Scholarship Fund. "So for corporations to be able to take advantage of a facility that already exists, this is a great opportunity."
As the chair of the Advisory Board, Bruce led the effort to create the Foundry.
All of DIF's generously funded endowed scholarships will ensure that top-performing students receive necessary financial support.
I believe the scholarship will help attract stronger students and give those students who deserve an education at Temple an opportunity," said Barbour.
Andrea Anania Stewart's donation created DIF's Stewart Family Endowed Scholarship Fund, and she said she is looking forward to seeing what DIF yields.
The Digital Innovation Foundry has a practical, well-thought-out plan to engage students, industry, and faculty, which I am pleased to support," said Stewart, who is also on the IT Advisory Board.
IBIT's Advisory Board and Members — including Alexion, AmerisourceBergen, Emtec, NBCUniversal, Pfizer, QVC, and Scholastic — played an important role in bringing this unique capability to Temple.
When it comes to DIF's future success, Barbour said for her, it's not necessarily about one splashy breakthrough:
For me, it's the learning and it's the figuring out how you take a technology, turn it on its side, create different things, look at the use cases, and really broaden students' exposure to the realm of possibility."
Learn more at https://ibit.temple.edu/programs/digital-innovation-foundry/