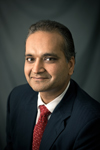 Niraj Patel, BBA '90,  President, ISGN, Partner, Witmer LLC, and Managing Director, Musser Consulting Group has been appointed "Executive in Residence" at the Fox School's Management Information Systems (MIS) department and the Institute for Business and Information Technology for the 2011 year.
Mr. Patel was selected as Executive in Residence because of his stature in the field and his continued support for the Fox School. As part of the appointment, Mr. Patel will be spending several days through the year interacting with Fox School MIS students and faculty. Patel will be visiting Fox in March 2011 to start the program. "We are fortunate to have Niraj Patel, one of our most successful, entrepreneurial, and innovative alums as our Executive in Residence" said Munir Mandviwalla, associate professor and chair of the management information systems department at the Fox School of Business.
"As a proud Temple alum, I am very much looking forward to engaging with Fox School MIS faculty and students" Patel said. "The MIS faculty and students at Temple have an entrepreneurial spirit and focus on innovation that is closely aligned with my interests."
Biography
Niraj Patel
President, ISGN
Partner, Witmer LLC and Managing Director, Musser Consulting Group
Niraj Patel is a senior business executive with a successful track record of uncovering a corporation's hidden value and opportunities to create long-term strategic and innovative solutions to increase profitability and performance.  His plans have included strategies to address organic growth, in-organic growth through acquisitions, investments, technology solutions and exit strategies. Patel has a passion for distinguishing where possibility does or does not exist in a business endeavor. His business expertise represents the culmination of 15 years focusing on growth strategies through innovation. His business acumen coupled with utilizing some of the most forward thinking business minds, enables him to assist international organizations with value innovation, calculated risk and exponential growth.
Patel currently serves as President of ISGN, a Partner of Witmer LLC and Managing Director for the Musser Consulting Group.  As a multi-national/cross border expert, he has a strong client base in India and has completed large scale projects bridging nations. Patel works closely with his diverse clients including single product firms, medium size firms targeting rapid growth and international conglomerates. It's their potential that drives Patel to engage their leaders to conceptualize and generate innovative ideas, analyze business strategies, and develop effective solutions, processes and procedures to produce streamlined profitable operations. His approach assists organizations accelerate growth and realize their fullest potential.
Patel is one of the founders of ISGN.  ISGN has grown from 100 employees to 1,800 worldwide and customer base has increased to over 1,100.  Previously Patel served as a founding member and Executive Vice President/CIO for GMAC Commercial Mortgage.  As a member of the Executive Committee, he was a key contributor to the organization's international growth by consistently delivering double-digit net income growth reaching as high as $341.6 million annually, increasing loan originations from $2 to $29.9 billion, building loan servicing from $5 to $276 billion.
Recognized as an award winning innovator and viewed as one of the leading technologists of his generation, Patel serves on numerous boards and panels, speaks at industry conferences and has been quoted by The Wall Street Journal and numerous commercial real estate, finance and technology publications.  Patel's community and professional memberships have included the Microsoft Executive Circle; Eastern Technology Council; the Board of Advisors of the Management Information Systems department at the Temple University Fox School of Business; the NPower CIO Advisory Council. and His executive board experience includes: the Mortgage Industry Standards Maintenance Organization (MISMO) Board of Directors,  EnableUS and  MortgageRamp.
He has a BBA in Finance and MIS from Temple University and resides in suburban Philadelphia with his family.
About the Fox School's Management Information Systems (MIS) department and Institute for Business and Information Technology (IBIT)
The Fox School's MIS department offers undergraduate, graduate, and doctoral programs in information systems and includes more than 600 majors and minors and 12 faculty members. Ranked number 1 in the world for research in 2010 by the Association for Information Systems, and in the top 10 by The Chronicle of Higher Education and TechRepublic in 2008/2009, the MIS department is one of the youngest and most successful IT oriented departments in the U.S. The associated Institute for Business and Information Technology (IBIT) connects students and faculty with industry leaders through a membership structure, and provides project and professional development opportunities. For more information, visit community.mis.temple.edu or ibit.temple.edu