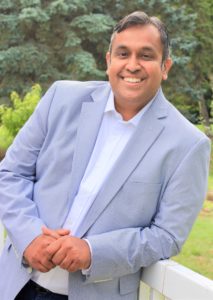 Scholastic Inc. CIO and CISO Raghu Sankaran joins IBIT Advisory Board.
Raghu Sankaran is passionate about using technology to improve business outcomes. He brings this energy to the dual roles of Chief Information Officer and Chief Information Security Officer at Scholastic Inc., where he's held executive and leadership roles for more than six years. He came into Scholastic with 20 years of industry experience under his belt.
Now, he brings the full range of his expertise to the IBIT Advisory Board as its newest member. Sankaran joins a board made up of 14 other industry leaders across a diverse range of fields, including technology, finance, entertainment, healthcare, and retail commerce. Sankaran is most looking forward to mentoring students.
I can give them a sense of what it's like in the real world and prepare them to join the workforce when they're done with school, he says. He also anticipates the benefits of these relationships flowing both ways.

As board members, we can share actual business challenges with them. Students can be much savvier with some of the latest and greatest technology. They bring fresh thinking to challenges that might be steeped in legacy technology, he says. He even imagines students might tackle some of these problems in their projects.
Scholastic Inc., is a venerable multinational publishing, media, and education firm. It's the largest publisher of children's books in the world. Sankaran's work there centers on shaping the vision for the future of technology at the company.
My focus is to bring technology solutions that serve the needs of the business, solutions that scale and perform. I make sure the technology delivers on the business objectives. Otherwise, technology is just a research project, says Sankaran.
Before his arrival at Scholastic, Sankaran was in charge of the Healthcare Enterprise Platform team at Siemens Healthcare. Other past roles include Director of Technology at Sapient and leader of Intuit's Enterprise Commerce Platform and Enterprise Order System Middleware groups.
Sankaran graduated with his BS in engineering from the Indian Institute of Technology, Delhi. He earned his Master's degree in engineering from the University of Maryland.