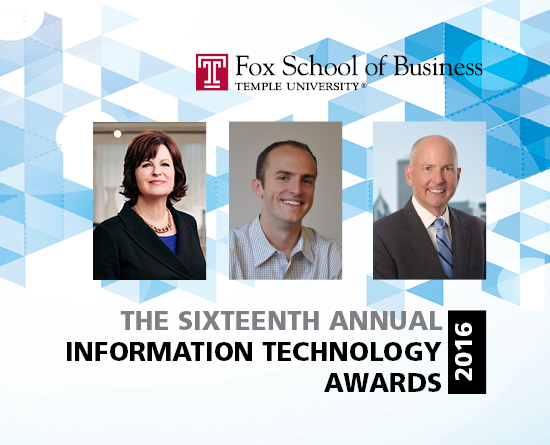 Temple University's Fox School of Business will honor three top technology leaders Tuesday, April 12 at its 16th annual Information Technology Awards. This premier event is organized for Greater Philadelphia's technology community by the nationally ranked Department of Management Information Systems (MIS) and the Institute for Business and Information Technology (IBIT). This year, Linda Dillman of QVC, Robert Moore of RJMetrics, and Rich Brennen of Spencer Stuart will receive awards.
"Linda, Robert, and Rich are leading the ongoing digital revolution that is transforming the business landscape," said Fox School of Business Dean M. Moshe Porat. "They join a proud and rich tradition of leadership exhibited by previous Fox IT Award recipients. The IT Awards, now in its 16th year, continue to recognize the best and brightest role models."
Linda Dillman, Chief Information Officer, QVC, will receive the Fox IT Leader Award for her leadership in the use and development of IT in business. Dillman helped to develop and implement QVC's global technology vision and strategy. Under Dillman's leadership, QVC's IT organization works to deliver a high-quality, seamless, multiplatform, engaging shopping experience for customers.
Dillman also serves on the board of directors for Cerner, the leading U.S. supplier of healthcare information technology solutions, and she was recently appointed to the GS1 US Board of Governors.
A seasoned leader, Dillman was recently named to the Top 10 Women in Tech list by Chain Storage Age magazine and a 2015 Top IT Pro by the Philadelphia Business Journal. She has also been recognized as a Computerworld Premier 100 IT leader for 2015 and a Most Powerful Women in Cable by CableFAX magazine in 2014 and 2015. Additionally, Dillman was named to Fortune's "50 Most Powerful Women in Business" for five consecutive years.
Robert Moore, Co-founder and CEO, RJMetrics, a SaaS company that builds data infrastructure and analytics tools, will receive the Fox IT Innovator Award for his innovation in applying technology and insights to create business opportunities. Using his skills in data analysis, entrepreneurship and software development, Moore's RJMetrics seeks to inspire and empower the data-driven community. Prior to launching RJMetrics, Moore served on the Investment Team of Insight Venture Partners in New York. As a writer and speaker, Moore has been featured by the New York Times, Forbes, TechCrunch, VentureBeat, TEDxPhilly, EnterConf, and Business of Software.
Moore supports local startups, serving on the leadership team of Philly Startup Leaders, and mentoring burgeoning Philadelphia entrepreneurs through the PSLU accelerator program.
Rich Brennen, North American CIO Practice Leader and Partner of Spencer Stuart, will receive the Fox IT Award for Distinguished Alumni for his work in the IT field and contributions to the community, industry and Temple. Brennen earned an MBA from the Fox School of Business in 1978. After graduation, he spent 15 years with IBM, where he played an instrumental role in building the company's international information technology strategy and consulting practice. At Spencer Stuart, Brennen expanded its information officer position, leveraging his consulting talents to recruit 250 chief information officers for several Fortune 500 companies.
Brennen is currently a member of the Fox School Dean's Council and Temple University's Conwell Society.
Munir Mandviwalla, founding chair of the MIS department said, "The Award recipients are superb role models for our students and an inspiration to our faculty for their role in leading the new digital centric economy."
Recipients are nominated and selected by a committee comprised of senior leadership at Fox, the Fox IT advisory board, and previous recipients.
The Fox School's MIS department is ranked No. 1 globally in research for the period 2010-2014. US News and World Report has ranked its graduate and undergraduate programs in the Top 15 in the nation.
The Institute for Business and Information Technology integrates industry perspectives with academic research expertise to create forums for generating and exchanging best practices.
For more information on the current Fox IT Awards, visit http://ibit.temple.edu/itawards/ and see previous recipients at http://ibit.temple.edu/programs/it-awards/