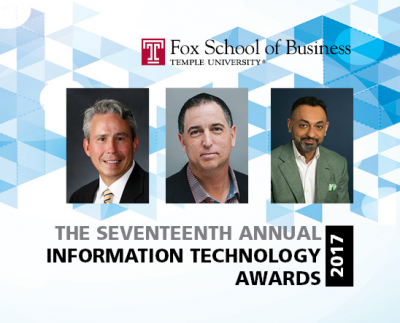 Temple University's Fox School of Business will honor three top technology leaders at its 17th annual Information Technology Awards.
This premier event, held April 4 at Temple's Mitten Hall, is organized for Greater Philadelphia's technology community by the Fox School's nationally ranked Department of Management Information Systems (MIS) and Temple's Institute for Business and Information Technology (IBIT). This year, Michael Bradshaw, Ned Moore, and Satbir Bedi will receive awards.
"Michael, Ned, and Satbir are innovators and industry leaders who have contributed to the ongoing digital revolution that is rapidly changing the IT landscape," said Dr. M. Moshe Porat, Dean of the Fox School. "They join a proud and rich tradition of leadership exhibited by previous Fox IT Award recipients. The IT Award ceremony, now in its 17th year, continues to recognize the best and brightest role models."
Michael Bradshaw will receive the Fox IT Leader Award, given annually to a person who demonstrates leadership in the use and development of IT in business.
Bradshaw is Executive Vice President and Chief Information Officer of NBCUniversal. He leads the IT organization and oversight of NBCUniversal's global IT operations, infrastructure, applications, and strategy.
Ned Moore will receive the Fox IT Innovator Award, given annually in recognition of innovation in the application of IT to create business opportunity.
Moore, a lifelong entrepreneur is the co-founder, Chairman, and CEO of Clutch, which provides an advanced integrated customer management platform for business-to-consumer businesses.
Satbir Bedi will receive the Fox IT Award for Distinguished Alumni, given annually to a graduate of the Fox School of Business in recognition of a distinguished career in IT.
Bedi is Chief Technology Officer of Scholastic Corporation, a global children's publishing, education, and media company. He shapes Scholastic's technology strategy, software development, and operations.
"The 2017 IT Awards recipients are shining stars for our MIS students, who are learning to lead in the digital economy," said Dr. Munir Mandviwalla, founding chair of the Fox School's MIS department.
Recipients are nominated and selected by a committee comprised of senior leadership at Fox, the Fox IT Advisory Board, and previous recipients.
The Institute for Business and Information Technology integrates industry perspectives with academic research expertise to create forums for generating and exchanging best practices.
For more information on the current Fox IT Awards, visit http://ibit.temple.edu/itawards/ and see previous recipients at http://ibit.temple.edu/programs/it-awards/