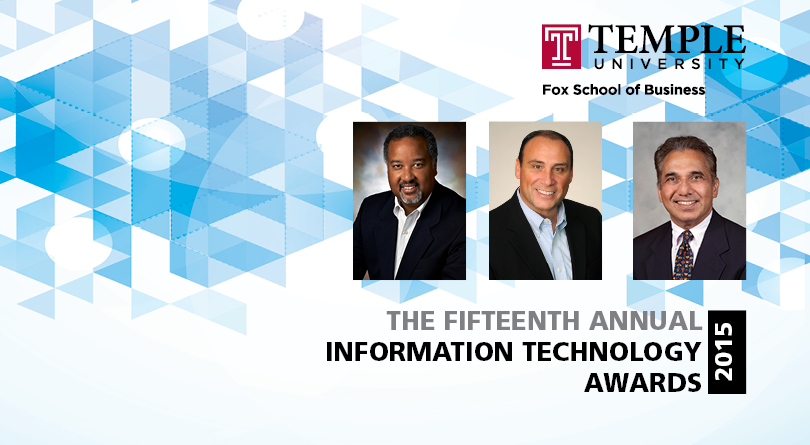 Temple University's Fox School of Business honored three top technology leaders at its 15th annual Information Technology Awards on Tuesday, April 14.
Fox School's nationally ranked Department of Management Information Systems (MIS) and the Institute for Business and Information Technology (IBIT) organize this premier event for Greater Philadelphia's technology community. The honorees are:
George Llado, Senior Vice President and Chief Information Officer of Alexion, will receive the Fox IT Leader Award, for his leadership in the use and development of IT in business.
Jeff Mango, Vice President of Total Experience in Verizon's marketing organization, will receive the Fox IT Innovator Award, for his innovation in applying technology and insights to create business opportunities.
Dinesh R. Desai, Chairman of the Board and Chief Executive Officer at Emtec, will receive the Fox IT Award for Distinguished Alumni, for his work in the IT field and contributions to the community and industry.
"As innovators, executives and industry leaders, George, Dinesh and Jeff have excelled in a rapidly changing IT landscape," said Fox School of Business Dean M. Moshe Porat. "In doing so, they carry on a proud and rich tradition of excellence displayed by past Fox IT Award winners, who will serve as models for our students."
Llado is responsible for leading Alexion's Global IT function, during a time of rapid expansion and focusing on initiatives that enable Alexion to serve more patients around the world, he and his global team develop and implement enterprise-level business applications and infrastructure, expand ERP implementation, manage information security, deliver new analytics tools, and design and deploy systems. He serves on the National Center for Women & Information Technology (NCWIT) Board and the Temple Fox IT Advisory Board.
Mango and his team leverage social and digital media insights across Verizon's business units in order to enhance the overall end-to-end customer experience and increase operational efficiency. Targeted information and solutions help drive improvements in customer experience and loyalty, which increases revenue and reduces operating costs throughout the business. Previously he led the customer and business intelligence organization (CBI) that was the first of its kind.
Desai earned an MBA from the Fox School in 1978. After graduation, he spent 12 years with American Can and Arco Chemical in various management positions. He went on to become President, CEO, Co-Chairman and an owner of Western Sky Industries and then Chairman and CEO of DARR Global Holdings, Inc., a management consulting firm. Desai has also served as a member of the Board of Directors of the Enterprise Center, a Nonprofit Organization.
"In a world increasingly dominated by digital business models, the 2015 Fox School IT Award recipients are true role models for MIS students, who are learning digital business innovation and how to lead revenue growth in a digital economy," said Dr. Munir Mandviwalla, founding Chair of the MIS Department.
Recipients are nominated and selected by a committee chaired by Bruce Fadem (Chair, Fox IT advisory board) and comprised of senior leadership at Fox, the Fox IT Advisory Board, and previous recipients.
The Fox School's MIS department, ranked No. 1 in the world for research, in the top 15 nationally for undergraduate programs, and in the top 20 for graduate programs, is a worldwide leader in transformative research and teaching in the design, use, and effects of information technology. IBIT integrates industry perspectives with academic research expertise to create forums for generating and exchanging best practices.
For more information on the annual Fox IT Awards, visit http://ibit.temple.edu/it-awards/