IMG_1734
IMG_1731
IMG_1737
IMG_1778
IMG_1733
IMG_1793
IMG_1729
IMG_1756
IMG_1725
IMG_1742
IMG_1747
IMG_1740
IMG_1739
IMG_1730
IMG_1735
IMG_1726
IMG_1741
IMG_1724
IMG_1796
IMG_1728
Students won big at the
Temple Analytics Challenge: Making Sense of Big Data
, which recently awarded a $7,000 prize pool to eight teams representing schools and colleges across the university.
The university-wide competition, organized by the Institute for Business and Information Technology (IBIT), launched Oct. 1. The challenge attracted 183 entries from 400 participants across seven schools and colleges, including both undergraduate and graduate students. The Fox School of Business, School of Tourism and Hospitality Management, Tyler School of Art, and College of Science and Technology were among the schools represented in the competition. The challenge tasked students with making sense of Big Data through visualization, a key component of data analytics cited by experts as a promising path to job opportunities.
The entrants could choose to solve one of three challenges from the World Bank (finding global economic development opportunities), Merck (creating smarter travel policies) and the City of Philadelphia (fostering Philadelphia's economic development).
The judging panel selected the 20 finalists, who presented their visualizations before the judges on Nov. 15 in Alter Hall. The judging panel included William Stolte (Merck), Neil Fantom (the World Bank), Gregory Waldman (City of Philadelphia), Ben Hasan (Walmart), Larry Dignan (CBS Interactive), Caron Kogan (Lockheed Martin), Ravi Chawla (Independence Blue Cross), Sara Aerni (Pivotal) and Harold Hambrose (Electronic Ink).
"I was very impressed by the quality of the presentations and the effort that students had made," said Fantom, manager of the Development Data Group at the World Bank.

"There is a wealth of talent at Temple University," added Hasan, senior vice president of IT Strategic Services at Walmart. "The submissions were thoughtful and insightful."
Management information systems (MIS) senior Yolandra Brown earned the first-place prize – $2,500 – for her solution to the Philadelphia Challenge.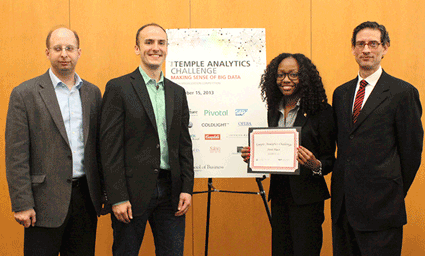 "I was shocked, happy, and I realized I won all the money to myself," said Brown, who worked alone. She plans on putting the winnings toward a car she hopes to purchase upon graduating in May.
In her infographic, Drilling Down to Philly's Hottest Private Industry, Brown found that the social assistance subsector could have the largest increasing workforce demand. Within this subsector, individual and family service is expanding the fastest, as services for the elderly and disabled are contributing most to the industry's growth.
"I looked at certain aspects within population size and life expectancy to find a way to put that back in the infographic," Brown said. "So I decided to do the whole story, how I got down to finding that service and what's going on with that service and is it going to continue to grow."
In her conclusion, Brown urged government officials to support workforce development and business assistance in the individual and family services industry, focusing primarily in elderly and disability services.
Second-place winner Ping-yeh Chiang, a senior actuarial science major, has noticed how much of a hot topic data analytics has become. After competing in the challenge, Chiang learned that Big Data presents three sets of challenges.
"First, the accuracy of the data is often questionable. Second, data found to answer questions must be relevant. Third, numbers have to be put into context, which is difficult to do," Chiang said. "After this challenge, I started to understand the value of Big Data and the challenges behind it."
The Temple Big Data Conference, also organized by IBIT in 2012, funded the $7,000 prize pool.
"Students from across the university created a fantastic set of entries and did a great job presenting them to our judging panel. We are really proud of the work they did," said MIS Associate Professor David Schuff, co-organizer of the challenge. "This challenge wouldn't have been possible without our industry partners who donated real-world problems and data and who generously gave their time as judges."
Peter Jones, Temple's senior vice provost for undergraduate studies, noted the challenge's interdisciplinary reach: "This is the sort of activity that really helps students appreciate the interdisciplinary potential and opportunity that methodological and analytical skills can offer."
Keynote speaker Robert Moore, founder and CEO of Philadelphia-based analytics firm RJMetrics, praised the work of the students: "The masters of visualizations are the ones who are going to change human thoughts and behavior by using data. Today the work that you have done is extremely powerful and absolutely critical."
Second-place winners
($1,000 per team)
World Bank Challenge
Ping-yeh Chiang and Nathan Saunders
Merck Challenge
Kevin Chin, Anna Choe
and Richard Somerville
Honorable-mention awardees ($500 per team)
Philly Challenge
Jessica Isaac, Jerome McLeod
and Robert Scanlon
World Bank Challenge
Matthew Bukoski, Nikita Patki
and Xi Qiu
World Bank Challenge
Julianne Melograno
World Bank Challenge
Maxwell Cutler, Patrick Markward, Meghan McManus, Charles Yan,
Linfeng Yang and Leah Wrobel
Merck Challenge
Kevin Dannenberg, Scott Georgescu, Jamilla Lee, Nehaben Patel and
Yoojin Shin