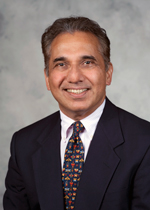 Information technology executive Dinesh Desai has joined the Fox IT Advisory Board. Desai serves as the Chairman of the Board and Chief Executive Officer of Emtec, a provider of tech-based business solutions.
Additionally, Emtec has become a member of the Institute for Business and Information Technology (IBIT) at Temple University's Fox School of Business.
"It is a privilege to welcome Dinesh to the Board," said Dr. Munir Mandviwalla, Executive Director of IBIT and Chair of Fox School's Management Information Systems (MIS) department. "His entrepreneurial instincts and accomplishments will serve the digital innovation agenda and the associated MIS department."
Managed by IBIT, the Fox IT Advisory Board advises the Fox School, its MIS department, and IBIT.
Desai joins the 13-member Fox IT Advisory Board that features professionals and executives in the technology, finance, entertainment, healthcare, retail commerce industries, and more.
"Emtec is proud to support Temple University, the Fox School of Business, and IBIT by becoming an active participant in joint research and thought-leadership activities," Desai said. "We firmly believe that industry and academic collaboration is the best method to prepare the next generation of business leaders."
Desai added: "Being an alumnus of Temple's Fox School of Business, I am personally honored to be invited to join the Advisory Board. I look forward to working with the other members of the board to contribute in a meaningful way toward the strategy and future direction of the institute."
Desai has served as Emtec's Chairman of the Board and Chief Executive Officer since 2005. Before that, he was Chairman and CEO of management consulting firm DARR Global Holdings, Inc. Previously, Desai was President, CEO, and Co-Chairman and an owner of Western Sky Industries, a privately held manufacturer of proprietary component parts used primarily in aerospace applications. He also held various management positions for 12 years with American Can and Arco Chemical.
Desai received his Master of Business Administration in Business Administration and Management from Temple's Fox School of Business. He also holds a Master of Chemical Engineering degree from Montana State University-Bozeman, and earned his Bachelor of Science degree in chemical engineering from the Indian Institute of Technology, in Bombay.