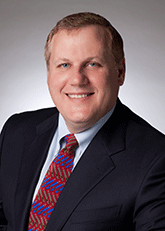 INFORMATION TECHNOLOGY AWARD FOR DISTINGUISHED ALUMNI
Dave Kotch, Vice President & Chief Information Officer, began his career with FMC in 1984. Since then, he has held various positions within the Information Technology (IT) organization. Dave was instrumental in leading FMC's SAP implementation in the late 1990's and formed FMC's SAP competency center, which provided support for the SAP systems following the implementation. In 2002, Dave was promoted to Director of Information Technology and served in that role until he was appointed Chief Information Officer in 2007.
During his tenure as Chief Information Officer, Dave and his organization have helped FMC complete multiple acquisitions and divestitures which transformed FMC into a leading global agricultural chemical company.
Dave is a member of the Mercy Health Systems Board of Directors and its compliance subcommittee. He is also a member the Chemical Information Technology Center's CIO organization and the CIO Executive Summit, belongs to various business associations and resides on several boards within his local community.
He received a Bachelor of Science degree in Information Systems with a minor in Economics from King's College, and a Master of Business Administration degree in Marketing from Temple University.