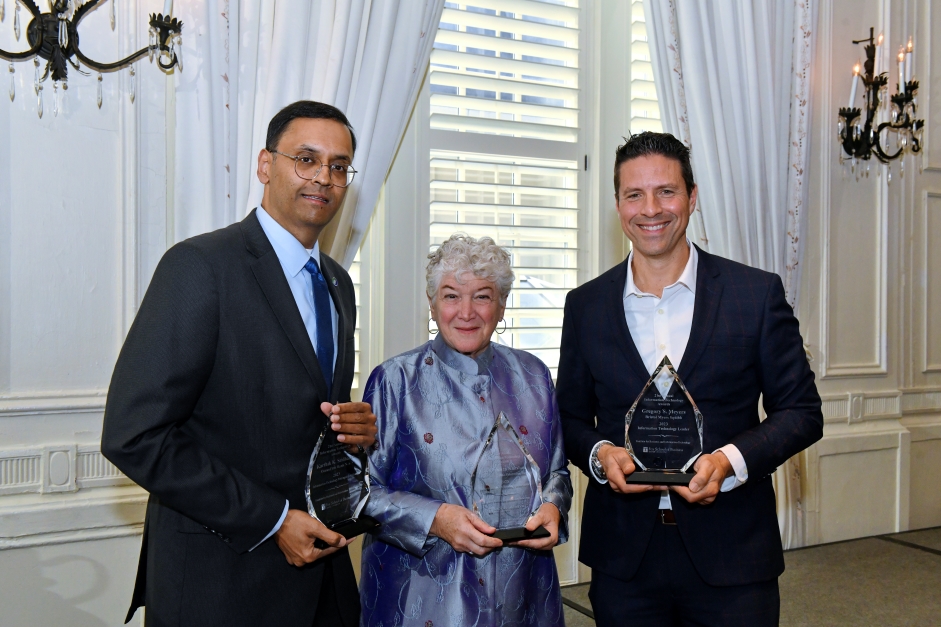 Temple University's Institute for Business and Information Technology (IBIT) honored three exceptional technology leaders at its 21st Annual Information Technology Awards.
This premier exclusive event, held Thursday, May 4, 2023, in Philadelphia, brought together an elite group of technology leaders, innovators and disruptors for an engaging evening of discussion about the rapidly changing digital landscape and how we prepare for the road ahead.
The evening spotlighted IBIT's three honorees for 2023 who shared their expertise and vision with the attendees through keynote presentations.
Dr. Barbara "Bobbi" Kurshan, Board Member of American Public Education, Inc., received the 2023 Information Technology Innovator Award. Dr. Kurshan, co-author of "InnovateHERs – Why Purpose-Driven Entrepreneurial Women Rise to the Top," has honed her vision of "what can be" using technology while supporting education companies and developing innovative products. She currently serves as a Senior Innovation Advisor at the Graduate School of Education at the University of Pennsylvania where she builds and advises education innovation ecosystems and co-directs the global certificate in Innovation and Entrepreneurship. T
Bobbi's keynote focused on "Innovation and Entrepreneurship, Synergistic But Not Synonymous."
Gregory S. Meyers, Chief Technology and Digital Officer at Bristol Myers Squibb, received the 2023 Information Technology Leader Award. As a key leader at one of the world's largest pharmaceutical companies, Meyers is responsible for the company's digital transformation, the IT function and cybersecurity. He leads the company's digital health initiative which performs cutting edge R&D using Artificial Intelligence to transform the way patients who suffer from serious diseases are diagnosed, treated and monitored.
Greg's keynote focused on "You Ain't Seen Nothing Yet, Tech in the Next 20 Years."
Karthik K. Sridharan, Executive Vice President and Chief Information Officer, OceanFirst Bank N.A. received the 2023 Information Technology Award for Distinguished Alumni. Prior to his role at OceanFirst Bank, Karthik was the Chief Technology Officer at Citigroup and held leadership roles in global technology management with JP Morgan Chase and Bank of America Merrill Lynch. He was also Industry Manager at Microsoft before entering the financial services industry. Karthik is a graduate of Temple University's Fox School of Business.
Karthik's keynote focused on "Let's Apply Digital Disruption to Impact Our Communities."
"This year's group of honorees are truly exceptional in their contributions to the IT community, and we are proud to recognize them as digital transformation leaders," says Dr. Munir Mandviwalla, IBIT's Executive Director and Professor of MIS at Temple University's Fox School of Business.
For more information about the IT awards and to learn more about the honorees, please visit https://ibit.temple.edu/itawards/. To see the event pictures, click here.
Contact ibit at ibit@temple.edu.