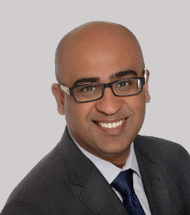 INFORMATION TECHNOLOGY AWARD FOR DISTINGUISHED ALUMNI
Himesh is the CEO and member of the Board of Directors of Synacor (Nasdaq: SYNC), a trusted technology, services, and revenue partner for over 100 Internet service providers, 1000 publishers, and 4000 enterprise customers around the world. He has led the turnaround of the business through organic growth and M&A, putting it on track to deliver revenue of over $140M, its third year of growth, and profitability.
Himesh joined Synacor from Comcast where as VP, New Services and Platforms his team incubated and operated a portfolio that spanned video services, cloud services, payment platforms, advertising, next-gen set-top boxes, and digital marketing.
As VP and General Manager and Corporate VP Revenue Development, Himesh led the Broadband business at Charter Communications. He outperformed the industry in data revenue growth, developed multi-platform video services, drove higher broadband speeds, and launched a rapidly adopted wireless networking service.
Prior, Himesh was the VP and General Manager of AOL Mobile and created a leader in messaging, search, and entertainment products working with carriers and OEM's around the world. He started his career as an Associate Partner in the Telecom and M&A practices of McKinsey & Company.
Himesh received his MBA from the Wharton School, and his MA in Economics from Temple University. He has received several industry recognitions such as the Cablefax100 list of the most powerful executives in cable and the Most Innovative People in Multiscreen.