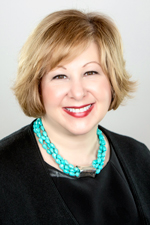 INFORMATION TECHNOLOGY AWARD FOR DISTINGUISHED ALUMNI
Linda Descano, CFA®, is Managing Director and Head of Content and Social at Citi, responsible for social media and content marketing efforts for the U.S. consumer businesses. Linda also serves as President and CEO of Women & Co., Citi's award-winning digital publisher of financial lifestyle content.
Over her 20 years at Citi, Linda has had a very diverse career, holding a number of roles across different businesses and functions. She joined Citi predecessor Salomon Inc. in 1994 as Vice President of Environmental Affairs. In 1999, Linda became a director and portfolio manager at Citi's Private Portfolio Group. Linda joined Women & Co. in 2003 as Chief Operating Officer and was named CEO in 2010. She also served as Chief Administrative Officer of Global Marketing & Corporate Affairs from 2008-2010. Linda assumed her current responsibilities in 2012.
Linda is a regular contributor to Citi's Financial Fitness blog, Women & Co. and Manilla.com and a member of the LinkedIn Influencer program, writing on an array of personal finance, career and leadership, and marketing topics. She was selected as one of GoBankingRates.com's Most Popular Personal Finance Experts in 2013.
An accomplished speaker, Linda has spoken at hundreds of conferences on an array of personal finance, content marketing, and career topics. She is regularly sought out by the media for her expertise, and has been quoted in: Smart Money Magazine, The Los Angeles Times, Business News Daily, MORE Magazine, American Banker, Digiday, Ad Age, The Daily Rap on the Wall Street Journal Radio Network, The Washington Post, Yahoo Shine, MSN Money, Forbes Woman and many more. She has contributed to countless newspapers and websites including The Huffington Post and Working Mother.
Among her many accomplishments, Linda was honored as one of "10 Women Who Run the World" at the 2013 More Magazine/Fitness Magazine Women's Half Marathon, and is the recipient of a Changing the Game Award from the Advertising Women of New York in 2013; a Women of Excellence Award from the National Association of Female Executives in 2012; a Luminary Award from Womensphere in 2011; a Corporate w2wlink Ascendancy Award in 2009; and a Wise Woman of the Year Award by the National Organization of Italian American Women in 2008. Linda also will receive the Pinnacle in Leadership Award from the Girl Scouts of Greater New York in April 2014.
Passionate about community service, Linda is on the Board of Directors of Girl Scouts of the U.S.A., the Director's Council of the Penn Museum, and the advisory boards of Eve Echo, Fab&Fru and Generations. Linda currently serves as president-elect of New York Women in Communications and is an executive member of Advertising Women of New York. She is the past national vice chair of Step Up Women's Network. She also is a member of the Financial Women's Association, New York Society of Security Analysts, and National Organization of Italian-American Women.
A native of Philadelphia, Linda attended Temple University and Texas A&M University. She has a Bachelor of Arts in Geology and holds a Chartered Financial Analyst® designation.