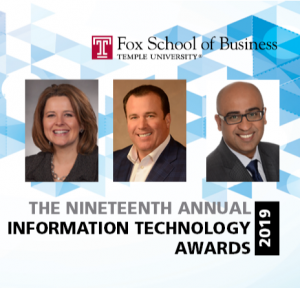 Three information technology leaders who are innovators, pathfinders and problem-solvers in the industry will receive the 19th Annual Information Technology (IT) Awards from Temple University's Institute for Business and Information Technology at the Fox School of Business.
"Across all the corners of the business world, information technology leaders are tasked with growing the market and creating solutions as that market evolves," says Ronald Anderson, interim dean of the Fox School. "We are proud to recognize Angela Heise, John Collier and Himesh Bhise as archetypes of the leaders we hope our students become in the future."
The Information Technology awards will be presented during a ceremony on April 4 at Temple University. The Fox Department of Management Information Systems (MIS) and the Institute for Business and Information Technology (IBIT) host the event for the Greater Philadelphia information technology community.
"This year's honorees are digital leaders," says Munir Mandviwalla, IBIT's executive director. "The awardees are leading the path for IT to create new ways to monetize business, new ways to secure data, new ways to move information and change our world."
IT Leader Award:
Angela L. Heise is the president of the Civil Group at Leidos, Inc. Heise leads a talented team that works alongside U.S. Cabinet-level civilian agencies to modernize IT and cybersecurity infrastructure and realize efficiencies from automation and re-use. She is the recipient of this year's IT Leader Award, which is given annually to a person who demonstrates leadership in the use and development of IT in business.
IT Innovator Award:
John K. Collier is the vice president and chief information officer at Wawa, Inc. Collier has established the strategic direction for Wawa's expanding technology and business services. The IT Innovator Award is given in recognition of innovation in the application of IT to create business opportunities. Collier has previously forged new business models in the wireless industry and established intellectual property management and monetization strategies at Walmart.
IT Award for Distinguished Alumni:
Himesh Bhise, who earned his Master's in Economics at Temple in 1990, is the chief executive officer and director at Synacor, Inc. The Temple graduate is the recipient of the 2019 IT Award for Distinguished Alumni, given annually to an alumnus of the Fox School in recognition of a distinguished career in IT. Bhise has led Synacor through a turnaround that has seen three years of growth and profitability, delivering innovative collaboration, identity, and advertising technologies to customers around the world.
"This year's outstanding recipients are great role models for our students," says David Schuff, professor and chair of the Department of Management Information Systems. "They serve as examples of how visionary IT leadership can transform business."
Recipients of the 2019 IT Awards are nominated and selected by a committee comprised of senior leadership at the Fox School, the Fox IT Advisory Board and previous recipients.
For more information on the current Fox IT Awards, visit https://ibit.temple.edu/itawards/.