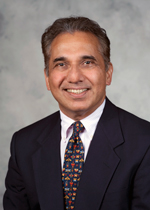 INFORMATION TECHNOLOGY AWARD FOR DISTINGUISHED ALUMNI
Mr. Desai has served as the Chairman of the Board and Chief Executive Officer at Emtec since August 2005. From 1986 to August 2005, Mr. Desai was the Chairman and CEO of DARR Global Holdings, Inc., a management consulting firm. Since 2004, he has also served as Chairman on the Board of Directors of Emtec Federal, Inc. (formerly Westwood Computer Corporation).
Mr. Desai was a President, CEO, Co-Chairman and an owner of Western Sky Industries ("Western Sky"), a manufacturer of highly engineered, proprietary component parts used primarily in aerospace applications. Western Sky grew from approximately $3 million in revenues to over $170 million in revenues during the 1990's prior to being sold to McKechnie P.L.C., in 1999.
Prior to 1986, Mr. Desai spent twelve years with American Can and Arco Chemical in various management positions, including marketing, manufacturing, finance, planning and research and development. Mr. Desai has also served as a member of the Board of Directors of the Enterprise Center, a Nonprofit Organization.
Mr. Desai holds a Bachelor of Science Degree in chemical engineering from the Indian Institute of Technology in Bombay, India, and a Masters of Science Degree in both chemical and industrial engineering from Montana State University. He earned a Masters in Business Administration from Temple University in 1978.